← Back to Projects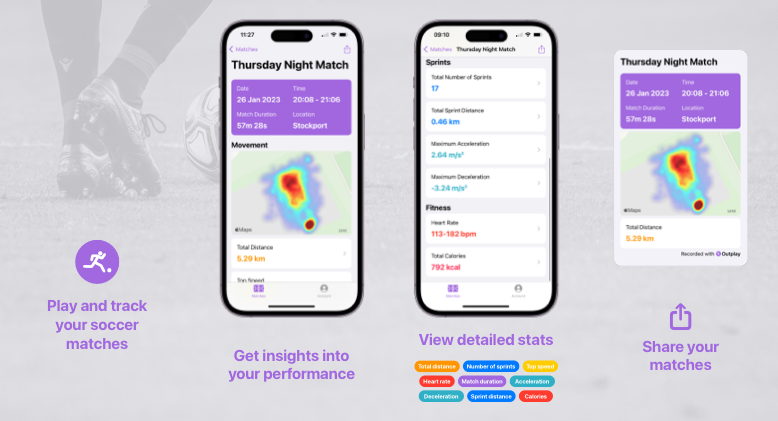 Outplay - Soccer Tracker
Play and track soccer matches and get insights into your performance using Outplay for iPhone and Apple Watch.
Track Your Matches on Apple Watch
Play and track your soccer matches using the companion Outplay Apple Watch app.
Track a continuous match or split up the match into first and second halves.
Pause and resume tracking the match at any time, if necessary.
Get Insights on iPhone
Use the Outplay iPhone app to view details of matches tracked on your Apple Watch.
Get insights into your latest match and view your previous matches.
Play Better
Analyze how you play with a heat map of your movement during the match.
View detailed statistics about your matches, including total distance, top speed, number of sprints, total sprint distance, maximum acceleration and deceleration, calories burned and heart rate.
Share Your Matches
Share a summary of your match with friends and family, including match details, total distance and your movement heat map.
You're in Control
Go to your Account settings to see how your match data is interpreted.
View and change how your sprints are identified.
Apple Health Integration
Your match details are stored in Apple Health and contribute towards your Activity rings and fitness goals.
Outplay stores your match route, distance, heart rate and calories in Apple Health.
Designed for Privacy
Your data is only stored on your device and synced with your iCloud account.
None of your data is ever sent to a third party.
Outplay is available now for free on iPhone and includes the companion Apple Watch app. Outplay Pro, an optional subscription with additional features, is planned for a future release.